UPDATE (2016-Feb-01):
Upgraded from HD 650 to HD 800. Now in audiophile heaven. Also, added SOtM internal USB port with SOtM SATA In-Line power filter.
I recently switched my computer's audio system from the Objective2 Amplifier and ObjectiveDAC (a good low-cost set-up) to the
TEAC USB AUDIO DAC UD-501
. I connected the TEAC to a spare laptop running
Audiophile Linux
. Listening with Sennheiser's HD 650 headphones, the system playing native
DSD
albums sounds remarkable. All instruments and vocals are crystal clear and superbly smooth. It's the way music was meant to be heard.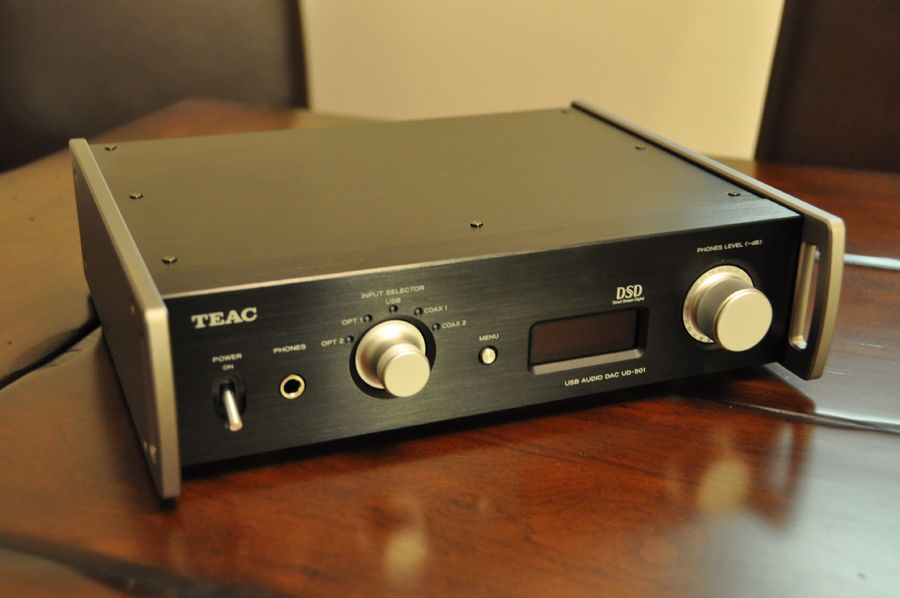 DSD is the future of music — beautiful high quality audio. With a well produced DSD album, it sounds as if you are at the recording studio with the artist. Granted that a typical DSD album can be around 2-4 GB, it is rather disappointing that people seem to prefer poor quality MP3 recordings playing on low quality DAC chips in iPods and cell phones. NOTE: If you want a portable option, see the
Geek Wave
. An MP3 album is less than half the cost of a DSD album, but it is also less than half the quality IMO. I don't think many people are aware of how amazing DSD quality music played back with professional quality electronics can sound. Since we live in a time where hard drives in the 2-4 TB range are rather cheap, I hope that consumers begin to demand that music producers focus on providing high fidelity music.