I recently purchased and set-up the BitCrane Miner T-110S. Purchased on-sale at newegg for $598, it provides 1 TH/s of Bitcoin mining power. It was extremely easy to get the rig started and connected to my mining pool; less than five minutes out of the box. So far I am very impressed. This would make for a great gift to anyone interested in Bitcoin mining.
My electricity costs are $0.11 per kWh per month. Since the T-110S consumes approximately 650 kWh per month operating 24/7 — $71.50 per month — it will take a number months to break even, depending on the exchange rate of Bitcoin. This boils down to about $2.31 per day in electric costs. And at 1 TH/s operating speed I earn approximately $3.90 – 4.50 per day depending on the difficulty level and exchange rate. With a fixed cost of $598 I should break even in 273 – 376 days.
However, it is interesting to note that the T-110S could be considered a space heater — not sure how efficient. This would in effect replace some of the cost of heating a home in the winter. Unfortunately, the costs will not outweigh the benefits during the summer months. I believe in the future of Bitcoin and its ability as a unit of exchange. The purpose of my purchase was mostly to gain a participatory experience and support Bitcoin — rather than profit seeking.
Update: After purchasing the T-110S I wanted to compare it with an Antminer. I therefore bought the Antminer S5. The S5 consumes about 60% of the 900W consumed by the T-110S for the same GH/s and is easy to set-up. On the downside, the S5 is extremely loud and lacks a nice case and appearance.
I have moved both miners into the garage because I was tired of their whirring sounds. The move to the garage solved the sound problem and the temperature problem – since my garage is quite cold during the winter.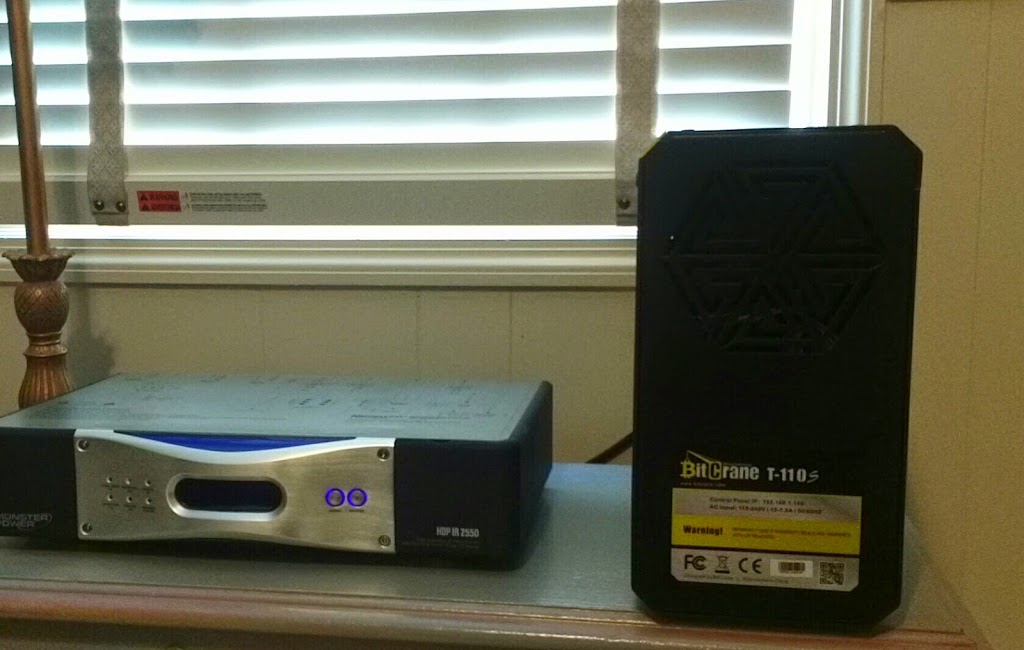 NOTE: After running the miner in the horizontal position, I found that the temperature decreases. I would recommend NOT placing the miner in the vertical position since the water coolers fans would be in-taking air from above — hot air rises, hence not an efficient mode of cooling.